This is an twenty-odd-minute orchestral suite written in 1876 by Tchaikowsky. It's intensely romantic, ridiculously melodic, and should be played really, really loud. ("5✭♫" series introduction here; with an explanation of why the title may look broken.)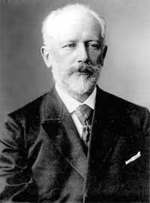 The Context · I don't know any bad Tchaikowsky music. He doesn't cover the waterfront, or try to; what you get are deeply-felt large-scale heavily-orchestrated showpieces that start strong, are stuffed with hummable tunes, and end—always—with a bang. But if that's what you're in the mood for, nobody's ever done it better.
(There's an interesting music-obsessive discussion lurking here: not all great musicians have been good at endings. Tchaikowsky was, Bach was only OK, Brahms is way better than Beethoven, and back in the 20th century, the Clash were unequaled among rock bands in bringing a tune to convincing, and interesting, close.)
Tchaikowsky was a very interesting person: high-strung, obsessive, gay, hard to get along with; I think the great book about him still hasn't been written.
The Music · I'd say that Francesa is the first movement of the best symphony Tchaikowsky never wrote. I'm not going to get into a big long end-to-end description, except to say that it has as many beautiful melodies as three average Beethoven symphonies, wonderful writing for strings and percussion, and is never boring for a single second of its twenty-plus minutes.
Apparently the music is about the story of the famed star-crossed adulterer of the same name as told by Dante in the Inferno, and while I've read that, I don't remember the story and I don't think I'm missing anything.
Also, this is classical music's analogue of London Calling or Made in Japan; music that just simply can't be played too loud. You need an good stereo, because stringed instruments played loud en masse are maybe the single greatest challenge to electronic music reproduction. But this thing ought to be played at a volume where the loud bits are making the house shake. Turn it up until you're frightened and then turn it up some more.
The recording I listen to is from 1959 by Dorati and the Minneapolis orchestra on Mercury (catalogue 434 373-2), which also has very good versions of Tchaikowsky's Symphony No. 4 (that's what's advertised on the front for some reason) and Borodin's Prince Igor. It's one of the "Mercury Living Presence" recordings, which are audiophile legends, recorded in three channels on half-inch-wide tape by Wilma Cozart; many lovers of fine recording feel that Ms Cozart's work in this era has never been improved on. There is a certain amount of tape hiss, but once Piotr gets his musical hooks into you, you'll never hear it.
Sampling It · There's no useful way to "sample" a 20-plus-minute work. If you like the sound of an orchestra and like good tunes, you'll like this. Otherwise not.
I see that there's a Mercury Living Presence Web site, and they advertise a CD set of all the Tchaikowsky symphonies, which includes Francesca; it looks like the CD I have is out of print. While I suspect that any competent orchestra and conductor will do OK with this one, it would be a pity to get a recording that's not technically good, because Piotr's orchestration really deserves the best treatment.
---