Leon Redbone is alive and performing, but he's not actually a contemporary artist; he performs sentimental and jazz songs from the first half of the 20th century, with acoustic accompaniment and period arrangements. Which doesn't sound very compelling; except for, Redbone picks terrific tunes and sings them beautifully. The song in question is the title track from his 2001 album Any Time, and it might just be the single best vocal performance of our young century. ("5✭♫" series introduction here; with an explanation of why the title may look broken.) [Update: Samples at the iTunes UK store.]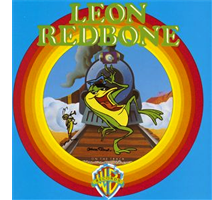 The Context · Redbone's real name is apparently Dickran Gobalian; he came slowly into public consciousness in the early Seventies in the Toronto area; most people had never heard of him until one day someone asked Bob Dylan who he'd be interested in producing a record for, and he said Redbone was the only candidate. Redbone used to perform at folk festivals with only a tuba for accompaniment.
He is studiedly enigmatic, hiding behind the "Leon Redbone" construct and having essentially never said anything about himself as a real actual person. His in-concert patter is sparing and light-heartedly deranged; often limited, between one forgotten 1920's tune and the next, to a growled "Here's that big, big hit..." He also plays some remarkable acoustic guitar breaks.
His first record, On the Track, made a lot of people very happy twenty years ago; in particular I think he totally owns Fats Waller's Ain't Misbehaving. Plus the album cover was beyond cool.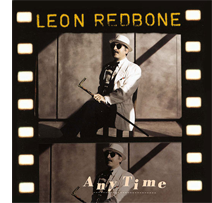 The Music · Any Time is a typical Redbone selection, an uptempo love song, penned in 1921 by one Herbert "Happy" Lawson, who seems hardly to exist on the Internet except on a thousand sites offering guitar tablatures.
I think this performance might be Redbone's best ever. It's unironic yet positively gleeful; he sends his voice, at once rich and sinuous, loping, bending and bouncing through the verses, throwing in a hiccup here, a break into falsetto there, and in the last verse teetering gracefully on the edge of a yodel. As you listen you find yourself thinking "gosh, that's a sweet sentiment" and "mmm, what a great tune", maybe snickering at the trombone. A couple of careful listens later it might dawn on you that this is a totally virtuoso vocal (I'm not sure any other living singer could manage some of those twists); which is as it should be, the technique lifting the music while hiding behind it.
The arrangement is at the blues end of Dixieland, with barrel-house piano and some outrageous trombone portamento, sprightly and unobtrusive. The whole thing is essentially perfect. There are twelve tunes on the record, none weak, with six four-star performances to accompany this gem. The composers' names alone leave a rich flavor in the mind: Herbert Happy Lawson, Jelly Roll Morton, Spencer & Clarence Williams, Nacio Herb Brown, FJ Coots Haven, Mitchell Parrish, Arthur Sizemore, Egbert Van Alstyne.
How to Sample It · This is not exactly all over the net; I poked around in pirate territory and briefly saw a 42M MP3 of the whole album on Gnutella. iTunes doesn't seem to have it. [Update: Richard Newman writes to say that the Any Time tracks are there on the UK iTunes music store.] There are samples on Amazon, but navigating straight to the album doesn't turn them up, you have to search for "Leon Redbone Any Time", then the first "[Import]" match has them. Amazon's price, when I checked on the weekend, seemed like a real bargain to me.
You might think you don't need straight unironic performances of lightweight eighty-year-old pop ditties in your record collection, but you'd be wrong; this is pure gold.
---