It was a late evening, we had a fine dinner and then went to see La Bohème at the Vancouver Opera. I'm not a connaisseur, but there are a couple of important reasons why you should go see opera sometime, if you don't already.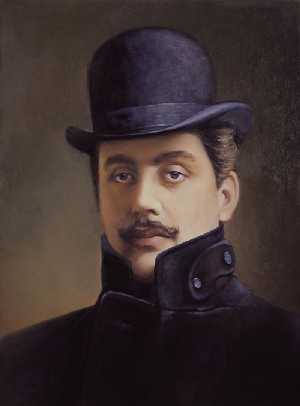 La Bohème doesn't have tunes that run through your head the morning after, and to call the plot "lightweight" would be kindness, but even so, it makes for a nice evening out when performed well.
Even if you have wide-spectrum musical tastes you may have been put off opera by the fact that most recordings of it sound putrid (I don't know why) and by the general ridiculousness of the whole thing. I'm here to tell you that being at a live performance is a whole different level of experience.
It can be visually very compelling, a huge stage is the norm and a very few figures, placed strategically on it, acting competently, and filling the room with music, can catch your eyes and not let go.
But the big deal is the sound. Opera is about the only form of music left where you can go and hear real people singing and playing musical instruments for your pleasure with no electrical devices in the path; no microphones, no amplifiers, no speakers, just human throats and chests, steel string bound by the luthier's art, curved brass-enwrapped airpaths, and so on; the volumes and the "mix" are accomplished not by a geek at a board with hundreds of knobs but by the performers themselves, doing it right there in real time in real space, and co-ordinating hundreds of music sources, not just a five-piece band with singer.
I love loud electric music, but if you think that all those electronics in the signal path aren't stealing something of its soul, you're not listening carefully. There's nothing that sounds remotely like a tenor and soprano leaning into a crescendo of strings in a big duet, with the tympani's visceral rumble by way of commentary.
Even if the story is silly, it takes you along with it, just like a lame-but-effective summer movie blockbuster. In the third act, with the two leading men standing in the snow singing "Love is not enough to save her" and Mimi, standing aside, in soft counterpoint "Must I then die?" there were few dry eyes in the house, certainly not mine.
The lead singers weren't big stars but were up to the task, Ailan Zhu as Mimi being Asian was a nice Vancouver touch I thought, Theodore Green as Rodolfo sang well and acted better; the only one I'd go out of my way to hear again was bass-baritone Nathan Berg as Colline.
---