I got a package in the mail today from Oxford University Press, containing The Architecture of Theology by Prof. A.N. Williams of Cambridge University's Faculty of Divinity. This pleases me intensely.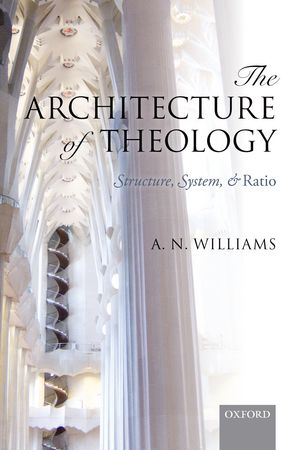 I took the original of that picture on the cover; it's the first interior shot in Sagrada Família, a piece here whose name echoes that of the famous Gaudí church in Barcelona.
I even got paid for its use. I think there are some useful take-aways.
Barcelona February · I remember it like yesterday, touristing with Chris Pruett in the hard wind and rain under a bitter grey sky. Which I gather is the only reason we were able to stroll right into the church without any waiting in line. Relevant to this story is that my big SLR was out of juice so I shot the church with the little Canon S90 pocket cam.
Anyhow, I took the pictures, I liked the pictures, I ran them here on the blog, and also dropped them into Wikipedia's Sagrada Família entry.
A few months later, I got an email out of the blue from Prof. Williams, wondering if they could use my picture for the cover of her forthcoming book.
I asked to be paid, we agreed on a price, I sent the RAW file over to Oxford, and the book came out in August. I hope every theologian on the planet buys one.
Lesson: The Best Camera... · Is the one you have with you.
High-quality academic book covers are the kind of application where you might even be able to make a rational case for using a medium-format (as in, huge and wildly expensive) camera. Because you need all those pixels. Well, except for when you get lucky with your tiny pocket camera.
Lesson: Ask to Get Paid · Frankly, I was so charmed to be asked that I might have let them use it for free. Particularly since Theology treatises are not, I suspect, big money-spinners. But this is Oxford University Press, with which I've had considerable dealings in a previous life. They're extremely profitable and fairly hard-ass, business-wise.
Interestingly, a recent G+ thread pointed me at Mike Spinak's When Publishers Request Freebies, which covers this subject.
When you make something that people think is good enough to use in a commercial product, ask to be paid.
Lesson: Wikipedia as Photog Marketing · I've tossed a few pictures into Wikipedia over the years, just because I like doing it. At least one professional photographer whom I admire, Duncan Davidson, is reluctant to contribute to Wikipedia because of the licensing and the fact that images are how he makes his living. And indeed, by my reading of the licensing on my photos there, Prof. Williams and OUP could probably have gone ahead and used the picture without asking.
Except for, when I upload a picture to Wikimedia Commons, it's a moderately-low-compression JPEG with no dimension larger than 1024 pixels. I didn't really overthink that, it just seemed big enough to look good and do its job in the context of a Wikipedia article, and also not so big that it'll take forever to upload.
But it's probably not big enough, nor unprocessed enough, to be useful by people with demanding quality requirements, who are also the people likely to be able to pay you. So maybe a few more real professional photographers could improve Wikipedia's visual appeal without endangering their livelihoods, just by being a bit stingy with the pixels.
The Book · I'm no more likely to read all of this book than Prof. Williams is to get through the 69 fragments in the Concurrency section of this blog.
I actually have more acquaintance with theology than does your average geek, but I have to say this stuff is seriously inside baseball. Let me quote from Prof. Williams' closing paragraph, though:
The sanctified mind that views the cosmos as a luminous fabric sees the world as a divinely spun web, and the propositions that describe it as an intricate system, its coherence a unity. To perceive and wonder at that unity, even in an imperfect rendering, with all its tensions and contradictions, is both to enter into theology in its deepest, self-truest form, and to pray. If theology is systematic because it is necessarily concerned with rationality and relationality, it is also necessarily contemplative, inasmuch as it draws its writers and readers more deeply into the divine reality which the discourse, for all its frailty, mirrors.
I must say that in our brief correspondence I found Prof. Williams gracious and charming, and I hope that those equipped to understand her discourse find it notably lacking in frailty.
---
---