I got this email, subject "Enterprise Server Spotlight", that was sorta kinda from InfoWorld, and it took me to a Web page that was sorta kinda InfoWorld, and the whole sequence was very disturbing. [Update: InfoWorld responds; "Never ascribe to malice..." as the saying goes.]
Here's what I got from InfoWorld:
Omeda is InfoWorld's third-party fulfillment house. They manage InfoWorld's circulation database and we utilize them for most of our email deployments. In addition, InfoWorld also uses Commerce Register as an email partner. Both Omeda and Commerce Register are trusted InfoWorld partners.

InfoWorld's policy is to label "Sponsored" content. The Microsoft Spotlight cited was an error; we have since corrected it.

InfoWorld maintains a clear opt-in and opt-out policy. If anyone received an email in error or wishes to no longer receive communications from InfoWorld, they can unsubscribe using the link provided at the bottom of each email message. Or they can contact customerservice@infoworld.com and ask to be opted out of all future email.

Steve Fox
Editor in Chief
First of all, thanks to InfoWorld for noticing!
I actually do occasionally get "what's hot today" emails from InfoWorld and even read them some times, so I must have opted into something. This Microsoft piece really stood out, though, so I guess I need to go over to InfoWorld and make sure I don't have the "Please spam me" box checked; or maybe just unsubscribe from everything.
As for item 2, shit happens; and indeed if I go visit that page now, there's a little "Special Advertising Partner" banner. This is the kind of mistake the trade press can't afford too much of.
The Original Post · I'll reproduce some parts of the email:
From: 	        ifwd@ifw-media.com
Subject: 	Enterprise Server Spotlight
To:             Tim Bray

**********************************************************************
The following message from InfoWorld is being sent to you as 
a valued member of the InfoWorld community. Please see below 
for more information about this mailing. 
**********************************************************************

Dear ,

Find out how Microsoft Windows Server System can boost productivity 
while maintaining the highest levels of security and data integrity 
by visiting InfoWorld's Enterprise Server Spotlight:
http://ifw-media.com/lrd0_AAPDAwAD3lsB

By visiting the Enterprise Server Spotlight, you will learn 
how Microsoft's cost-effective, best-of-breed Enterprise 
Server platforms offer:
Security 
Reliability
Indemnification
Scalability
... and lots more of the same. Hmm. I wondered what "ifw-media" was, and WHOIS took me to OMEDA COMMUNICATIONS, who say they're "the industry leader in fulfillment and database management for business-to-business trade publications and business marketers". So what happened to me was "fulfillment", eh? I wonder why it felt like spam?
Anyhow, that link redirected to http://www.infoworld.com/spotlights/microsoft/, and I'm going to reproduce a screen grab of what's above the fold. [Update: Per a suggestion from Anne van Kesteren, I equipped all those links with rel="nofollow". Snicker.]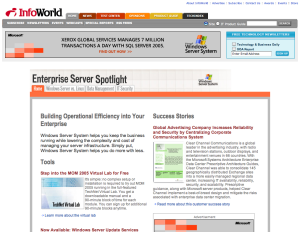 The thing that bothers me here is that there's an InfoWorld header, followed an obvious Microsoft advertisement, followed by what looks like editorial copy but reads like more Microsoft advertising, and then towards the bottom of the screen grab there's another advertisement, helpfully labeled "Advertisement".
Which might lead a reasonable person to suspect that the material between the two explicit advertisements is, you know, the output of journalists working at the publication whose logo is at the top of the page.
I don't need to explain why this really, really sucks. It hurts a little more because I've generally tended to have quite a lot of respect for InfoWorld, and some of my favorite tech writers hang their hats there.
---